Years ago I read a diet/healthy lifestyle book that I remember very little from…even the title.  Must have been a great book, huh?  Well, there is one thing that I do remember clearly from it that has impacted my life in such huge ways.  It has changed the way I see the world and has allowed me to really put life in perspective. 
It's the 80/20 rule.
The author of this book states that we should never try to eat perfect 100% of the time.  She made the case that most of us try for perfection, but no one is perfect.  We set such a lofty goal of eating right 100% of the time and then, we always end up eating chocolate or an entire bag of chips.  Afterwards, we feel like losers and failures and quit trying all together.   We go back to our bad habits because there's no point in trying if we can't eat right 100% of the time.
To break this cycle, she suggested to eat right 80% of the time and allow yourself to eat treats the other 20%.   Eat chocolate, ice cream, chips, whatever you like, but only do it for 20% of your diet. We'll still be doing better than we were before and we'll quit beating ourselves up for not being perfect.
So what does this have to do with parenting?
Well, what I take away from the 80/20 rule is that it's impossible to be perfect because we are human.  The goal is to do more good things than not so good things.
Give 80% more hugs than shoves.


Speak kindly 80% more than you yell. 
Feed your kids 80% good foods than junk. 
Give 80% more laughter, smiles, compliments, "I love you's".
and…
Forgive yourself for that other 20%.
Let's be honest, I try to be great 100% of the time.  But, in the same breath, I understand that I'm human and that I mess up.   Shoot, sometimes I mess up more than 20% of the time, and that's ok too!
***************************
Welcome to The Sunday Parenting Party!!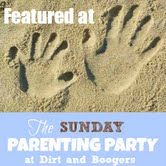 Welcome to The Sunday Parenting Party, hosted by
Dirt and Boogers
,
Play Activities
,
Crayon Freckles
,
Taming the Goblin
,
The Golden Gleam
, and
Prickly Mom
. The SPP is place for readers to find ideas on nurturing, educating, and caring for children, as well as honest posts about the stresses of being a parent or caregiver. Links to reviews and giveaways are welcome as long as they are relevant to the topic. All parenting philosophies are welcome with one exception: please do not link to posts promoting physical discipline, as this is something we would feel uncomfortable having on our blogs. (P.S. By linking up you agree that your post and photos are Pinterest, Sulia, G+ and FB friendly. We will be showcasing ideas on The Sunday Parenting Party Pinterest board.