"I guess what I'm asking is, how do I get my husband to make more positive changes and parent more like I do?"
This is a very short quote from a very long email I got from a reader recently.  I could totally relate to her as I read her plea for help.
First of all, I feel like I need to say that every family and marriage/partnership has their own unique dynamics so this may be totally irrelevant for you, or you might be struggling with this the same way I was/am.  Either way, here is how I handled the parenting disconnect between my husband and me.
I remember a conversation my husband and I had before we had children.  I asked him about what kind of parent he thought he would be, and how he wanted to raise our children. He looked at me like a deer in headlights and said, "Well, I figured I'd let you show me, you're the one who understands kids."
3 years later, that's kind of what happened.
I do take the reigns when it comes to parenting.  It is my full-time job, and I have a hands on experience and education with children that my husband doesn't have.  I read the books, blogs and articles about parenting, and he has not.
But, my husband has thoughts about how he wants our family to work and our children to behave, any good parent does.  I can't dismiss his wants and trump them with what I think is best.  We are a team and we discuss these things together.  Even though we are basically on the same page…
we are very different people and so we parent differently.
We handle J's behavior differently.  We approach Baby E differently.  We have different techniques, skills, and backgrounds that play a part of how we parent.
I used to get very angry when my husband dealt with an issue differently than I would.  I'd get so angry that he was parenting "wrong", so I would try to teach him and ended up nagging.  It wasn't pretty and our relationship was suffering because of it.
So I made a change.
1.  I've had to take a step back.  I used to step in and take over when my husband was trying to talk to or discipline J.  I didn't even realize I was doing it until he pointed it out to me. When I step in, I not only confuse J with too many people giving him direction, but I'm also undermining my husband as a parent.  Why would J ever listen to him if I keep jumping in?

Also, how is my husband ever going to practice his parenting skills if I keep taking over?  He has to learn what works for J and him, and I need to allow him to find his own way.  It's terribly hard to bite my tongue when I know of a more effective way to handle J's behaviors, but it's so important that I do.

2.  I remind myself that there is no perfection in parenting.  The times that I am the most critical of my husband are the times when he gets angry or he's made mistakes.  I have to remind myself that I am not perfect either and that we all make mistakes as parents.  He knows when he's messed up, and he'll take ownership of it.  He doesn't need me to point it out too.

3. Remember that he doesn't know kids and parenting like I do.  I've spent years of my life studying child development and parenting skills.  I read blog after blog and soak in as much information as I can about kids and parenting.  He doesn't do that, and that's ok.  What does matter, is that he's a loving and fun Dad who is a great parent.

4. Tell myself that he's a different person that I am. He doesn't need to do exactly what I do and to be a clone of me.  Our children need to see that their parents are different and have personalities unique to them.  He deals with life differently than I do, because he's a different person that I am.

5. Kids are resilient.  My husband is not going to mess up the kids because he does things differently.  He's not abusive and he's not going to ruin our kids because he doesn't handle things the way I do.
Really, in the end it's all about letting go and letting him become the parent he wants to be.  It's up to him to build the relationship he wants with his children.  I can not control what he does.  As long as we are on the same page about the big stuff, then we're good to go in my book.
Even though I am taking a step back, we do still talk (a lot) about our kids and how we want to raise them.  We work together as a team to make plans and strategies for our family.
Since stepping back and relaxing more, I've noticed that not only has our relationship improved, but he's become a more confident parent.  He's been able to relax in his role and find his own way more easily, without his wife watching his every move.  Looking at him now, I see such a great dad, who handles our kids beautifully.  Does he parent the way I do?  No.  He's even better at some things than I am!
Find us over at Facebook and Instagram to see what we're up to!
*********************************
Welcome to the Sunday Parenting Party!
Last week, I loved:
5 Minutes of Joy from Mamas Like Me
Average is A-Ok with This Mom from Rediscovered Families
If All Else Fails, Think of Your Future Self: 3 Strategies for Keeping Your Cool from Mommy, for Real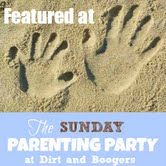 Welcome to The Sunday Parenting Party, hosted by Dirt and Boogers, Play Activities, Crayon Freckles, Taming the Goblin, The Golden Gleam, Prickly Mom, and The Tao of Poop. The SPP is place for readers to find ideas on nurturing, educating, and caring for children, as well as honest posts about the stresses of being a parent or caregiver. Links to reviews and giveaways are welcome as long as they are relevant to the topic. All parenting philosophies are welcome with one exception: please do not link to posts promoting physical discipline, as this is something we would feel uncomfortable having on our blogs. (P.S. By linking up you agree that your post and photos are Pinterest, Sulia, G+ and FB friendly. We will be showcasing ideas on The Sunday Parenting Party Pinterest board.)