I've collaborated with a group of bloggers to bring you 21 Days of Gratitude this month.  After loads of great, uplifting posts, today is my day to write about gratitude and thankfulness.
But, today I'm not feeling all that grateful.  I've had a hard week and all I can see is the negative parts of my life.
I'm angry that I don't have family or friends nearby to give a helping hand when I need them.  This week, both my baby and I are sick. That means that the 3 year old is the only healthy one during the day.  It would be great to have someone help me.  But No, it's just me until my husband gets home from work.
The days are getting dark and I miss being able to spend long afternoons outside in the sunshine.  I'm feeling stuck indoors and yearning for some fresh air.
I want my clothes to fit again.  It's been 10 months since I had a baby, but I have yet to drop that last 10 pounds and I'm tired of my jeans being too tight.  I want to wear more than yoga pants or tights.
My hair is a total mess.  I lost a ton of hair after E was born and now I have all this new growth and it looks like a hot mess…at least it does to me.
Overall, I'm feeling very lonely and unhappy.
It's days like today that I turn into the person that I don't want to be.  I'm not the wife my husband deserves.  I don't have the patience that my children deserve.  I'm not nice to myself, and I deserve better.
It's days like today that I need to be the most thankful.  Today is the day I need to find the things that I am grateful for.
I'm going to turn this day around and I'm going to be grateful that I have this day with my family.
I'm going to find those big and small things that I am lucky to have.
I'm going to recognize that I am blessed.
Blessed with great friends.
Blessed with a loving family.
Blessed with a house over my head, clothes on my body, and a kitchen full of food.
Blessed that I get to spend my days with my children.
Blessed that my husband has a secure job and so we have steady finances.
Blessed that my husband is not currently in a war zone and can spend his evenings and weekends with us.
Blessed that my husband, children, and I are all healthy.
Blessed that I have a wonderful life.  A life that, really, I wouldn't change at all.
Even though I've had  a rough week, I have a beautiful life.
It's all about perspective.
Hum…I'm feeling a little better already.
This post from Moments a Day really helps me keep things in perspective and to be grateful.
These are the wonderful bloggers joining in the 21 Days of Gratitude: Inspired by Familia, Upside Down Homeschooling, Still Playing School, Makeovers and Motherhood, P is for Preschooler, The Educators' Spin On It, Toddler Approved!, The Connection We Share, Mama Pea Pod, Mum in the Madhouse, Mama Miss, Plain Vanilla Mom, Tips from a Typical Mom, Learning with Mouse, Preschool Powol Packets, Kids Yoga Stories, Dirt and Boogers, Local Fun for Kids, Positive Parenting Connection, Kitchen Counter Chronicles, The Good Long Road, Bits of Positivity, JDaniel 4′s Mom, The Eyes of A Boy
*******************
Welcome to The Sunday Parenting Party!
Here's my favorite parenting posts from last week.
Mommy Reflections: 10 Blessings in Disguise – Mama's Like Me.
Not Cut out for This – Frantic Mama
Happiness is a Warm Gun, (Probably Not) But the Beatles Still Come to Mind – Janine's Confessions of a Mommyholic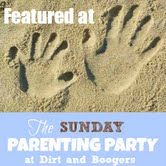 Welcome to The Sunday Parenting Party, hosted by Dirt and Boogers, Play Activities, Crayon Freckles, Taming the Goblin, The Golden Gleam, Prickly Mom, and The Tao of Poop. The SPP is place for readers to find ideas on nurturing, educating, and caring for children, as well as honest posts about the stresses of being a parent or caregiver. Links to reviews and giveaways are welcome as long as they are relevant to the topic. All parenting philosophies are welcome with one exception: please do not link to posts promoting physical discipline, as this is something we would feel uncomfortable having on our blogs. (P.S. By linking up you agree that your post and photos are Pinterest, Sulia, G+ and FB friendly. We will be showcasing ideas on The Sunday Parenting Party Pinterest board.)