One of the best parenting tips I've ever heard is "just wait".
When they're fussy…just wait.  Really listen, pay attention to them.  Look for the reason why.  Are they tired, hungry, need to connect?  Then you can take care of the need.  When you rush, you don't always notice the reason why they're doing what they're doing.
When it looks like they need some help with a problem…just wait.  They will either amaze you with their problem solving skills or let you know when they need help. When you rush in, you take away the joy of them figuring it out on their own.
When they're developing more slowly than you'd like…just wait.  One day they'll get it, and it will be awesome.
When you're ready for them to be potty trained..just wait.  They will show signs when they're ready, and it will be so much easier on both of you.
When they're busy playing and you want them to move onto something else…just wait.  Let them finish their work and they will be more likely to comply.
Just wait.  Be patient.  Let them grow as they need to grow.
It's so simple to understand, yet so hard to do.
But, if you just wait, your children will amaze you.
Please read this post from Janet Lansbury to read more about the concept of waiting.
*******************************
Welcome to The Sunday Parenting Party
My favorite posts from last week:
The Power of Yes – Suzy Homemaker
When You Can't Seem to Find Your Joy – House of Hendrix
How to Talk to Your Kids So They Will Listen – The Connection We Share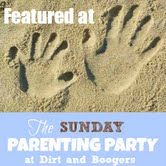 Welcome to The Sunday Parenting Party, hosted by Dirt and Boogers, Play Activities, Crayon Freckles, Taming the Goblin, The Golden Gleam, Prickly Mom, and The Tao of Poop. The SPP is place for readers to find ideas on nurturing, educating, and caring for children, as well as honest posts about the stresses of being a parent or caregiver. Links to reviews and giveaways are welcome as long as they are relevant to the topic. All parenting philosophies are welcome with one exception: please do not link to posts promoting physical discipline, as this is something we would feel uncomfortable having on our blogs. (P.S. By linking up you agree that your post and photos are Pinterest, Sulia, G+ and FB friendly. We will be showcasing ideas on The Sunday Parenting Party Pinterest board.)